August, 2012
now browsing by month
Here we are folks, there are a bunch of places we would love to play, but we are very limited on time here… we're super pleased to be playing with some incredible bands though at some amazing places. If you live in any of these areas or know somebody that is, please, please spread the word. Thanks! We are excited to rock across these United States of ours.
09/28/2012 at
Art Beat Foundation @ The 25th Street Collective
477 25th Street (between Broadway/Telegraph)
94612
Oakland, CA, US
W/ Minot, Animal Lover (MKE) all ages, $7-$10

9/29/2012 at Old Ironsides
1901 10th st, Sacramento, CA
w/ Jem & Scout, Mondo Deco, Cigarette Machine
9/30/2012 at Shea's Tavern
715 South Virginia Street, Reno, NV
21+
10/01/2012 at Burt's Tiki Lounge
726 South State Street Salt Lake City, UT 84111
21+ w/The Jingoes, Minx $5

10/02/2012 at Lost Lake Lounge
3602 E. Colfax Blvd., Denver, Co
21+
w/ Hooper

10/03/2012 at Vaudeville Mews
212 4th st, Des Moines, IA
w/ Pure Gut

10/04/2012 at Off Minor
1689 Elm St, Dubuque, IA
w/Legal Fingers, Skamp, Remember Last Fall

10/05/2012 at Cactus Club
2496 S. Wentworth, Milwaukee, WI
LATEST FLAME RECORDS 10 YR ANNIVERSARY!
w/ Ifihadahifi, System and Station, Heavy Hand
10/06/2012 (day show) at Zombie Pub Crawl, Ride of the Living Dead
Kenosha, Wi
w/Waxeater, Trophy Wives, Ifihadahifi, Blackout Dates
10/06/2012 at Quenchers
2401 N. Western Ave
Chicago, IL 60647-2011
W/ The Cell Phones, Radiant Republic
Cost: $?, 21+
10/07/2012 at Gooski's
3117 Brereton St
Pittsburgh, PA 15219
W/ FOOD (featuring eDFROMOHIO), Developer
Cost: $?, 21+
10/08/2012 at Maxwell's
1039 Washington Street
Hoboken, NJ (201)653-1703
W/ Stuyvesant, Eastern Anchors
Cost: $5, 21+
10/09/2012 at Don Pedro
90 Manhattan Ave
Brooklyn, NY, 11206
W/ Risk/Reward, Austerity Program
Cost: $?, 21+
11/07/2012 at Bottom of the Hill
1233 17th Street
San Francisco, 94107, United States
W/ Mike Watt + the Missingmen, Jokes for Feelings
Cost: $15, 21+, Tickets here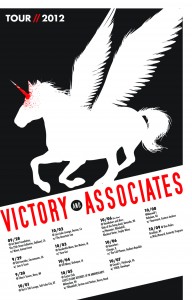 Wednesday November 7th, 2012
Bottom Of The Hill
1233 17th Street, San Francisco, 94107, United States
21+, Tickets available here.
Nov. 7th, Victory and Associates will be playing support for Mike Watt & the missingmen in San Francisco at Bottom of the Hill. To say that we're excited about this is an understatement of the highest order. The opportunity to share the stage with a living legend and somebody whose music and personal philosophy helped shape me (neutron) as a musician and a human is a rarified treat.
Very excited to play this show at the new all ages ArtBeat space in Oakland.
We're also playing with the excellent: Dark Beach and Bobby Joe Ebola and The Children Macnuggits
Hope to see you there!