Archives
now browsing by author
HaCkeD By MuhmadEmad
Long Live to peshmarga

KurDish HaCk3rS WaS Here
kurdlinux007@gmail.com
FUCK ISIS !
The sun has set upon the time of Victory and Associates. It's been an interesting almost 5 years. We've been all around this great country of ours. But after two albums, several singles and a digital single frontloaded with a comedic sketch, the time has come for us to bring it to a close. We would like to invite you to spend one last set with us 11/29/2014 at El Rio. As we run through some of our favorite songs of the last near 5 years or so and send off our little music band to rocker Valhalla.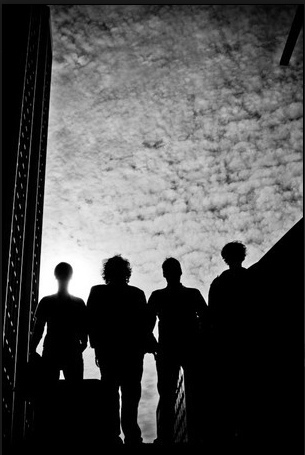 Victory and Associates and Seismic Wave Entertainment are very proud to announce that we are now part of Comedy Minus One's incredible PRF DISTRO, which we highly suggest as a one stop shop for Victory and Associates records as well as records by Minutes, the rutabega, Body Futures, Risk/Reward and many, many other worthies.
Driving eight hours from Chicago to Pittsburgh in late June gave me a lot of time to think. So impressed by the quality of the bands I had seen play as well as the quality of the people I had met at the 2014 PRF BBQ, I became interested in making it easier for folks to find these bands' releases instead of forcing interested parties to piecemeal single LP shipments together.

Somewhere on I-80 the idea for PRF Distro was born.

There are 75 different titles in stock as of today's launch, everything from the new Shellac record to limited run vinyl by These Estates, Alto! and Risk/Reward.

Like-minded labels such as Latest Flame, Sick Room and Damnaby have sent us select wares for our warehouse.

We've even made our remaining stash of Silkworm "Libertine" 2×12″ + SKWM shirt bundles available in a variety of sizes to mark the occasion.

Each release PRF Distro carries has an audio preview available, in most cases the entire record. Stream before you buy.

If you select a record, you'll be provided with eight recommended titles to explore at the bottom of the screen.

You can also use the "tags" that close each release description to find other records by the same artist.

Please follow PRF Distro on the Facebook and the Twitter as we'll be highlighting a different band/group/label weekly.
You can follow the PRF Distro on Facebook and Twitter both.
Please check it out: PRF DISTRO
Yes! we are on break or hiatus… or whatever dumb term you want to use. But we're also playing with 22 other incredible bands from the mighty PRF for the first PRF West Coast BBQ. Bands like Kowloon Walled City, Porch, The Gary, Nonagon, Generalissimo, Thoughts Detecting Machines, Philistines and so very, very much more.
Leo's (formerly Leo's Pro Audio)
5447 Telegraph Ave
Oakland, CA 94609
Go to http://www.prfbbq.org/ to get tickets. $30 for a three day pass or $12 per day.
Don't sleep on this bay area, it's the dawning of a new era!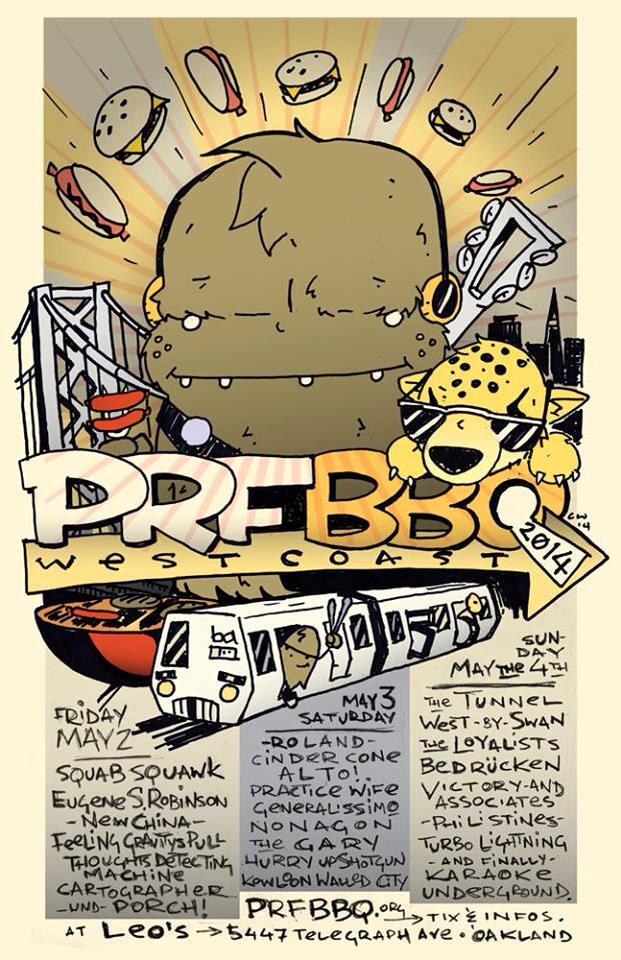 There will be a limited amount of these hand numbered posters available at our record release show tomorrow.
If there are any left, you can mail order them… they will be $10. Hope to see you there.

yup.
02/18/2014 at Live Wire Lounge
3394 N. Milwaukee
Chicago, IL, 60641
Cost: $6, 21+, doors at 9, show at 10
w/ The Cell Phones, The Columbines
02/19/2014 at Cactus Club
2496 S. Wentworth
Milwaukee, WI, 53207
Cost: $6, 21+
w/The Rutabega, The Revenge Society, Skategoat
First Aid Productions and Flonk presents:
02/20/2014 at Northern Michigan University
2496 S. Wentworth
1401 Presque Isle Avenue, Marquette, Michigan
Cost: free, all ages
w/Nonagon, The Rutabega, Two Holes of Man
02/21-02/23/2014 at Terrace Bay Inn
PRF Upper Peninsula Winter BBQ-PRF Thundersnow
Escanaba, MI
w/ Six Acre Lake, PRF Ambient Orchestra, CUSS, FoWlMoUth, Like Like The The The Death,The Chanteymen, Sycamore Smith and The Gray Beast, Che Guevara T-Shirt, Hungry Man, Tijuana Hercules, The Gary, Practice Wife, Tyranny is Tyranny, The Rutabega, Jap Herron, Body Futures, Stomatopod, The Paver, The Cell Phones, Kate Rev, The Fake Limbs-Nonagon Big Band

Victory And Associates
By welcometoflavorcountry
Victory And Associates is a Bay Area band that has been around the blocks a few times (as they put it). I recently challenged singer/guitarist Conan Neutron to expound upon the ideas behind the songs on their latest release, Better Luck Next Life. He happily did so and the results are below. Check out the album on their bandcamp page.

We'll Have To Be Our Own Heroes

Album opener. This one is based on the idea of "What happens when the champions just decide to call in sick?" Like there's supposed to be this huge battle between good and evil, and the paragons of justice and nobility partied a little too hard the night before. What if it was all just left to the busboys, the junior technicians, the ill equipped? And then the turnaround is you keep your elbows in, and hit as hard as you can. Do your best, don't wait for somebody else to save the day because they probably ain't coming, better to go down fighting than to just complain.

The line "we laughed and we laughed, but nothing was funny" is probably one of my favorite lines I've ever written. I'm sure I probably accidentally stole it from somewhere. The line before it "always for love, and rarely for money" is obviously a Talking Heads homage.

This song lived a few different lives, and never truly "popped" until it got much slower and was played in drop D. All because I didn't feel like retuning my guitar after Billy from Trophy Wives had played it last. Hooray for inspiration through laziness I think it's a nice opening shot. Honestly? Probably one of the cheeriest songs on the record too. That's depressing.

Ignore Button

We live in a world of increasingly cloistered and protected communities of our devising. It's so easy to just shut out the world at large and only hear viewpoints that you know you already agree with. It's how we can have an election and we can have tens of thousands of people that cannot even PROCESS how the other side *COULD HAVE* won, let alone that they did win. It's an echo chamber of things we already know that we like. And it's dangerous.

It works just as much with music as anything else, people close themselves off to new experiences and prefer to hear about things they already know or things that remind them of things they already know. That's stagnation to me man. I think nostalgia is a hell of a drug. We've made it ridiculously easy to remove dissenting opinions or even things we don't care to look at with a click of the button. Is that freedom? I suppose, but it also ensures an endless feedback loop of things you already like or agree with and that can be dangerous.

Ultimately it's about communicating without any communication taking place. You're talking to the wall and there's no impact. You're talking to the dog and there's no comprehension. It's some frustrating business and there's more and more of it as we move along unchallenged to our little subsects of subsections of culture, retreating away from the common experiences and overimbuing essence and meaning into things simply because they are already familiar.

Musically this is all Cheap Trick/Wipers worship on my part with some Fugazi/DEVO weirdness in the chorus but everybody brought something neat and unique to it and the arrangement. Mouse is a nutcase on the drums here. It's always a blast to play live.

Weightless and Pointless

There's a moment at the end of a relationship, at the actual end, where there's just a feeling of being weightless. As if the floor itself has completely disappeared. Even if you knew it was coming, even if you felt you were braced for it emotionally—until it actually happens, you aren't ready. There are no songs that I am aware of, or that I care about that have really embodied that feeling that I can think of. I'm also fascinating by the idea of being adrift in space, not immediately dying, but just adrift as slowly, inexorably everything you love disappears off into the distance. What would that feel like? Would it be at all like watching your perceived future life with somebody drift away? You have this shared common experience of being adrift, but no way to help each other. Everything I love is so far away, it just got a whole lot further now.

I guess that's what that movie Gravity is about. I don't know, I haven't seen it. Heard it was pretty good. I don't write lyrics about relationship stuff, but that concept was bouncing around my head for awhile and this is what we got out of it.

Musically: this is probably the "mellowest" song on the record. To me it's part Afghan Whigs circa the record 1965 and the parts I don't think suck about the band Spoon or early Elvis Costello. You'd probably get four different answers if you asked the rest of the guys though.

Everything's Amazing (Nobody's Happy)

Yup, the jumping off point is that Louis C.K. bit. Yes, we are fans, except for Mouse. He would want that recognized. That bit (and the idea really hit home for me) that we live in this world of complete and utter miracles, with all of the knowledge stores of all of society at our disposal. Stuff that would blow the minds of the ancient philosophers, or even people from fifty years ago. Yet we most often use it for bullshit, and we get all worked up because the flippant nonsense we use it for doesn't move QUITE as fast as our entitled selves feel like is worth it.

You didn't have to hunt and kill your dinner tonight, but you can tag #FML on twitter because you went over your text message allocation. "I wish I was dead!" REALLY?!? Do you REALLY wish you were dead? Are you listening to yourself? Is there anybody actively burning your fields and raping your neighbors? No? Good, I invite you to stop whining.

There is a lot of complaining for the amount of miracles that we have. Sure, no personal jetpacks or hovercars, but could you have in ANYWAY AT ALL forseen the smart phone? And everything you can do with it? Could anybody have forseen something like the societal change of Arab Spring all with devices that fit in your pocket?

The world we live in is incredible, it's just our perception of it that's fucked, and we use it to make ourselves feel miserable. "What do we do now?" I sing that about a million times at the end. Not providing the solution, but most definitely asking the question.

Musically, I really love how this one turned out. It's all Ron Asheton scuzz riffs in the verses, with Shane doing some neat slide stuff over it. The chorus is very "The Cars" to me. And then there is the crazy psych outro that just takes it somewhere else. It took a while before that didn't just seem indulgent as hell to me, but we wouldn't change it for the world now.

Exasperated, Inc.

Look: The world is in a sorry state right now in a lot of ways. All of this constant connection means being exposed to injustices, atrocities, and downright depressing things all around. Generally speaking, they are things that you cannot control and have no power of as well. It can wear you down if you let it. So don't let it.

This is also one of two songs that has the phrase: "It used to be beat the odds, now it's beat the clock." That, to me is one of the major themes of the record as a whole. Time as a finite resource, the odds as insurmountable as ever. That's what this song is about, being overwhelmed and trying to make the choice to not let it dominate you. It's a song about the frustration of giving a damn about things around you.

Musically? Easy: Archers Of Loaf riffs played with a "Get Back" style Beatles groove. The guitar duo at the break after the first chorus is shameless Television (the band), but not by design. It's just how it ended up. Mouse had to be talked into the drum thing at the end, he is vehemently against drum solos, but the idea was to have this big ridiculously ostentatious drum thing. And then this bratty Shellac-like single note hit at the end. I think it's a fine way to end the first side of a record.

The End of Memory

As a culture, we are losing our ability to remember anything. The downside to having all of the information stores of history available to us at all times. It's a problem, and one that will continue to manifest itself as time marches on. Why bother putting any effort into knowing something when you can type the words into your computer and look at the Wikipedia entry? It also means that these information stores can potentially be retconned in the future. Sounds paranoid, I'm sure, but it will happen. We'll definitely notice our lack of critical thinking as a culture when that happens. I think we stand a real nature of losing a lot of our history and shared experiences to "the cloud." Total drag.

Music wise: To me this is the absolute mélange of the more fast and aggressive In Utero Nirvana stuff mixed with mid-period Hot Snakes in the chorus. The slight syncopation and pickup in the choruses is a huge part of the song to me. There's what I call a "pocket Iron Maiden" guitar solo Shane does near the end that I just love because it gets in and out so fast.

For Serious

A song in defense of sincerity itself. Sincerity has been hijacked by lackwits and shameless manipulators. This is a straight up, self-aware call to arms. The answer isn't abject disaffection and removed distance but to dive deeper and stand for something that isn't ironic detachment. It isn't shameful to care about things, or give a damn about what you do—far from it. This is a song about DOIN' THANGS.

This song originally appeared on the incredible Lake of Fake single series. A super worthy subscription vinyl compilation series that is done solely for the love of music itself. Completely divorced from commerce and all of the other icky parts of music. This version is much better than that version though, and it should be—we've been touring this song for a couple of years now. I barely remember recording it, it's so second nature. I wouldn't be surprised if it's the song that we've played the most of any of our catalog, it's a nice set breaker for feel.

Musically: This one is rhythm and wide open spaces. A complete answer to the (very justified) criticism of the first record as being densely over packed. It all was built on that slinky slanky bassline Evan plays and the way the vocals and drums hit together. Sparse delayed guitar throughout. The chorus is all big arena release. Drawing a contrast with the verses. The vocals are impassioned and such, and since there's room to breathe I can to have some fun with that with inflection. The dual guitar parts are like a post-punk Thin Lizzy to me.

"Are We Having Fun Yet?"

Some bands are inspired by old bands, some are inspired by new. Some are inspired by critically acclaimed darkly comedic TV shows that only find their audiences long after they are largely ignored and cancelled. This is a song directly inspired by the TV show Party Down, you can count that show as a primary inspiration for our band as much as Fugazi, as much as Cheap Trick, DEVO, Queens of the Stone Age or whatever.

There's a fine line between delusion, disappointment and hope. It's about trying to be the best you can be at something, really going for it and maybe the best you get out of it is a catch phrase or something that seemed throw away and reductive. Something that has nothing to do with your "art," that's now how you are known. The equivalent of the "Whassup?!!" dudes from that real life commercial. Talented? Who cares? Dedicated? Doesn't matter. All you will ever be to the world at large is something designed to stick in people's head and sell something you don't really care about and have no stake in at all. All the while surrounded by folks in a cloud of delusion about their own adequacy and place in the world. Anyway, this song is directly about that show.

Musically: This song is a mix of New Order type melody played like KARP in the verses, and a big ol' Thin Lizzy style satisfying '70s rock chorus. The guitar duo bit gets to do a little Polvo thing at the end, which satisfies our necessary weirdness quotient that prevents us from appealing to Wolfmother fans and the like.

A Cheeky Little Wish For Your Attention

Band bios are preposterous. The entire act of trying to sum up a band in a paragraph is completely and utterly absurd on every level. For added fun: translate the bio to Japanese and back again! Then you get great little phrases like the title of this song.

Message-wise it's the counter part to "Ignore Button," which I already talked about at length. Everybody's talkin', but we're all talking to the wall. I got to reuse a few lines from other songs here that I felt never "popped" in the original song and reemphasized the "It used to be beat the odds, now it's beat the clock" line.

Musically this one is crazed. Probably one of the most needlessly complicated arrangements on the record, that somehow ended up sounding natural despite of everything. Yet, if you listen to the demo it really isn't that much different either. We just like to make things hard on ourselves I guess. The main riffs are from the Sonic Youth/early Trail of Dead/Unwound school, and the big huge stops are just a fun, dumb thing to do. Recording this one had just as much of the "holding on to a rollercoaster for dear life" feeling that the speed of the song hopefully elicits in others.

Taste the Danger

Ahh! The coda of the record and purposefully so. Sometimes the best you can do is to get out a message to those that came after you, the next generation. "It's your turn." Ultimately sad, but hopefully inspiring: for every four that fall away, five more will take their place. The messenger may fall, but the message will not. It's part of being something bigger than what you are or do. Which is something we've all strived for our entire lives, but you have to get ok with maybe not having the impact that you want. Better luck next life.

More space analogies. They are all over the place on this record. Should have called it: "Sore songs about Space and some other stuff." The towns of Kenosha, Wisconsin, and Chugiak, Alaska, are both name checked out of the gate. The idea being: There are probably kids in far off places doing some mind blowing next level stuff that makes what we do (and what our peers do) look like tired bar band twelve bar blues. It's easy to look at those that come after you with fear or wariness, but that's dumb. We won't be here forever, and that's okay.

This one is totally Fugazi riffs but trying to play them with a purposefully Crazy Horse style feel to them, not loose so much as purposefully not so rigid. The end is very King Crimson to me.
Here's our last show of the year, it's a holiday party of rock and roll delight at the legendary SF Eagle.
Nope, we still won't have the vinyl… Better Luck Next Year.